Controlled Power, Inc.
17909 Bothell Everett Hwy SE Suite 102
Bothell, Washington 98012
Phone: 425.485.1778
Fax: 425.485.0658
Engine Autostart Control Panel, ECB-2B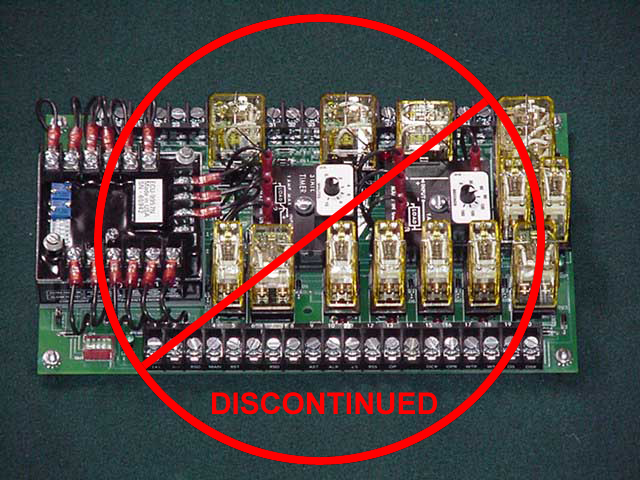 The heart of the ECB-2B autostart control panel is the ECU-9957N engine control module manufactured by ECU. This module mounts directly on the ECB-2B circuit board and can be replaced separately. This module controls all the engine functions, including automatic crank disconnect, overspeed protection, oil pressure arming and protection, crank timing and overcrank protection, and high engine temperature shutdown. The ECU-9957N can be programmed for positive or negative fault inputs.
The ECB-2B is a direct bolt-in replacement for the no longer manufactured Konell CPA24B, CPA24BR and Zenith Y730000 (CPA24B) autostart modules. It is designed to replace both Konell and Zenith models with only field programmable changes. It comes in both 12-volt and 24-volt models.
The only wiring change is that a magnetic pick-up wire connection is now needed for engine speed sensing. This shielded wire is connected to terminals (51) and (52) at the top left on the ECB-2B terminal strip.
The overspeed input (Term 19) can be used with the on-board speed switch as a redundant shutdown. This input can only be a positive signal. Or it can be left disconnected. All other wire connections are exact wire-for-wire replacements.
The ECB-2B circuit board does the interfacing between the ECU-9957N and the old style Konell and Zenith autostart operation, including ENERGIZE TO RUN or ENERGIZE TO SHUTDOWN fuel valve control, energize to shutdown timing, automatic engine cooldown and timing. In addition, new features have been added for programmable positive or negative alarm outputs for all engine alarms and common alarm outputs. Visual indication of battery supply status, alarm outputs, starter output, fuel valve output, engine running and cooldown status, is also provided with LED's mounted on the circuit board.
All relays on the ECB-2B are field changeable. The simple circuit design and visual status LED's make troubleshooting easy.